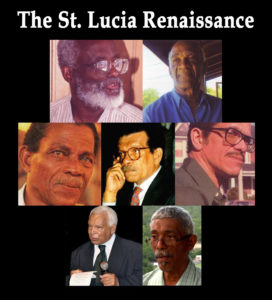 In celebration of St. Lucia's two Nobel Laureates—Sir Arthur Lewis and Sir Derek Walcott— the Vieux Fort community is pleased to invite the public to a lecture, The St. Lucia Renaissance, by award-winning Caribbean author, Dr. Anderson Reynolds, at 6:30PM on Wednesday 7 February  2018 at the National Skills Development Center (NSDC).
According to Dr. Reynolds, during the 1950 – 1971 period, the St. Lucia Arts Guild led Caribbean theatre and unleashed an unprecedented outpouring of artistic creativity, such that up till today the more notable exponents of that period have remained unmatched in St. Lucia in their respective fields of artistic endeavor.  Dr. Reynolds, therefore, maintains that the twenty-one years the Arts Guild span can certainly be a candidate for the golden era of St. Lucian Art and literature and can be aptly described as a renaissance.
Accordingly, in The St. Lucia Renaissance, Dr. Reynolds promises to characterize the renaissance, provide a glimpse of the achievements and body of work of the more outstanding players, examine the forces that gave rise to it and discuss its lasting manifestations and ramifications.
With its focus on our cultural and artistic legacy, Dr. Reynolds lecture is very much in keeping with the 2018 Nobel Laureate Festival Theme: Celebrating our Excellence: Consolidating our Legacy. A theme of particular importance given the recent passing of Derek Walcott.
Born and raised in the Caribbean town of Vieux Fort, St. Lucia, Anderson Reynolds holds a Ph.D. in Food and Resource Economics from the University of Florida. In recent years, he has emerged as one of  St. Lucia's most prominent and prolific writers. He is the author of three award-winning and best-selling books—the novel, Death by Fire (2001), the creative non-fiction The Struggle for Survival: an historical, political and socioeconomic perspective of St. Lucia (2003), and The Stall Keeper (2017). His fourth book, the memoir My Father Is No Longer There will be published in 2019.
The author's featured articles in St. Lucian magazines and newspapers won him a 2001 M&C literature award for creative journalism, and similarly a 2006 National Arts Award. The Stall Keeper (which is set in Vieux Fort) and Dr. Reynolds' journalistic pieces on Vieux Fort have established him as a foremost authority on Vieux Fort's socioeconomic history.
Dr. Reynolds' lecture is coming on the heels of what he described as a very successful and inspiring international book tour, during which he visited three countries and six cities.
Besides the lecture, the evening will feature poetic and musical renditions, book signings by Vieux Fort authors and the presentation of the Jako Prize. The event is free and open to the public and starts at 6:30 PM, Wednesday 7 February 2018, at the National Skills Development Center (NSDC), off the St. Jude's Highway.
1,734 total views, 32 views today